Name of the facility
Year of establishment
Green House
2011-2012
Plant Tissue Culture Lab
2012-2013
Computer Lab
2011-2012
Applied Palynology Lab
2017-2018
Herbal Garden
2017-2018
Herbarium
2017-2018
Animal Cell Culture Lab
2011-2012
Plant Tissue Culture Lab
2011-2012
Instrumentation Lab
2011-2012
Central Instrumentation Lab
2014-2015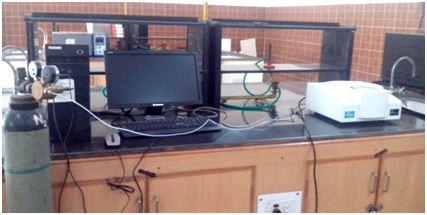 Perkin Elmer Simultaneous Thermal Analyzer STA 6000
It Enables real-time measurement and analysis of sample weight change and heat flow in one compact lab instrument. With innovative sensor technology and compact furnace design, our Simultaneous Thermal Analyzers (STAs) are ideally suited for both research and routine applications. Applications: compositional analysis, decomposition temperatures, engine oil volatility, flammability studies, lifetime predictions, measurement of volatiles, oxidative and thermal stabilities, catalyst and coking studies, and hyphenation to identify out-gassing products. Application of DTA/DSC: melting and crystallization behavior, glass transition temperatures, specific heat capacity, kinetic studies and transition and reaction enthalpies.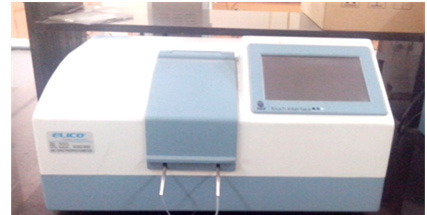 BL222 Double Beam Biospectrophotometer (Elico)
It is the perfect tool for routine applications like Quantitation of DNA, RNA, and oligonucleotide, Quantitation of proteins via the Bradford, Lowry, and BCA assay method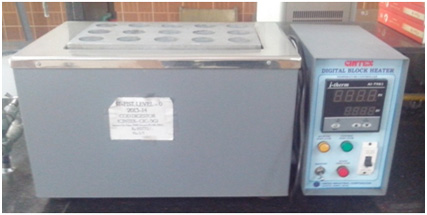 COD Digestor (Cintex)
Chemical oxygen demand (COD) is an indicative measure of the amount of oxygen that can be consumed by reactions in a measured solution. The most common application of COD is in quantifying the amount of oxidizable pollutants found in surface water (e.g. lakes and rivers) or wastewater. A COD test can be used to easily quantify the amount of organics in water. It is commonly expressed in mass of oxygen consumed over volume of solution which in SI units is milligrams per litre (mg/L).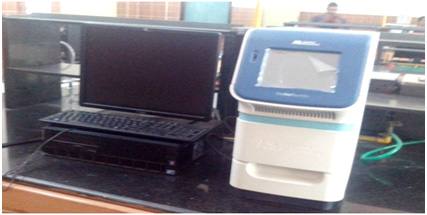 RT-PCR Step One plus Real-Time PCR System Applied Biosystems
Real-time polymerase chain reaction (Real-Time PCR), monitors the amplification of a targeted DNA molecule during the PCR, i.e. in real-time. Real-time PCR is used quantitatively (quantitative real-time PCR), and semi-quantitatively.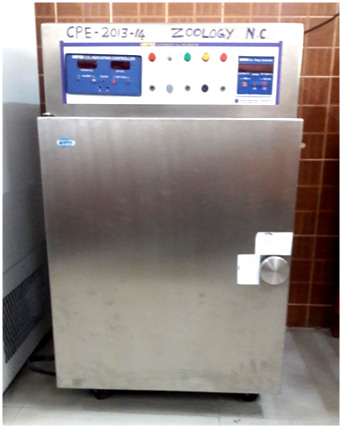 Cintex Automatic CO2 Incubator
CO2 incubator, also known as a gassed incubator, inside the incubator an atmosphere is created that is as natural as possible to develop cell and tissue cultures. This way of cultivating living organisms is called in vitro and is the main application for CO2 incubators. CO2 incubators are most frequently used in medical research and the pharmaceutical industry. It provides sterile conditions for cultivation of cells in a completely germ-free environment.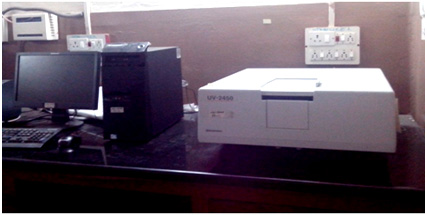 UV-2450-UV-Visible Spectrophotometer Shimadzu
UV absorption spectroscopy can characterize those types of compounds which absorbs UV radiation. Identification is done by comparing the absorption spectrum with the spectra of known compounds.UV absorption spectroscopy is generally used for characterizing aromatic compounds and aromatic olefins. It is used to detect the presence or absence of chromophore in the compound,detection of extended conjugation,Identification of unknown compound and Determination of dissociation constants.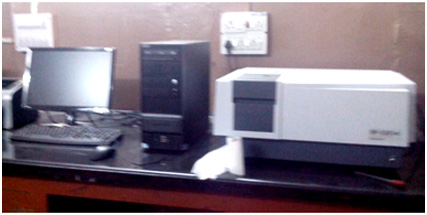 RF-5301PC SpectroFluorometer Shimadzu
This instrument is very powerful tool for the trace analysis of compounds that have functional groups that exhibit fluorescence. Usually these are organic compounds or inorganic complexes that have an aromatic and rigid portion that are not able to relax by traditional mechanism such as vibration and rotation. This instrument has up to parts per billion sensitivity, when used under optimum conditions. Compounds that do not have fluorescence can be derivatized to introduce a functional group that enables fluorescence.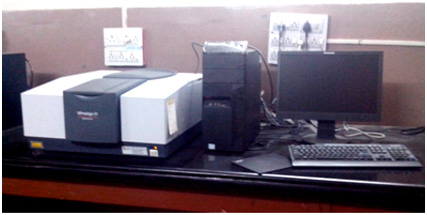 IR Prestige 21 Fourier Transform Infrared Spectrophotometer
FTIR is most useful for identifying chemicals that are either organic or inorganic. It is utilized for the analysis of solids, liquids, and gases.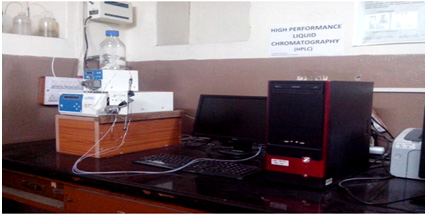 High Performance Liquid Chromatography Knauer Advanced Scientific Instruments
High-performance liquid chromatography is a analytical separation technique used to separate, identify, and quantify each component in a mixture. It relies on pumps to pass a pressurized liquid solvent containing the sample mixture through a column filled with a solid adsorbent material.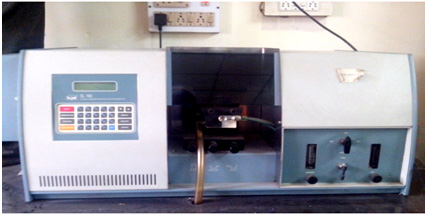 SL 163 Atomic Absorption Spectrophotometer Elico
Flame photometer detects Na & K content in soils, plant material, food & beverages - Ca in wine in Food & Agriculture - Na, K & Li electrolytes in serum - Na & K in body fluids (blood, urine, perspiration & saliva) in Pathological, Medical, Clinical & Bio-Medical investigations - Alkali & Alkali earth metals in Mining & Metallurgy - Alkali & Alkali earth metals in presence of each other or in any other material - Na, K & Ca nutrient solutions for cultivation of antibiotics in Pharmaceuticals - Na, K & Ca in natural, spring, river, sea, boiler feed, rinse and waste water in Pollution Monitoring & Control - Solubility, absorption and corrosion - Alkali & Alkali earth metals in pastes, Soda glass, Ceramic & Chemical industries - Na, K & Ca in cement and its raw materials in Research Laboratories & Industries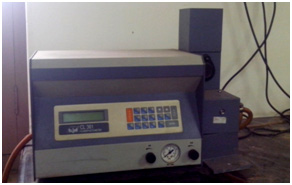 CL 361 Flame Photometer Elico
Atomic absorption spectrophotometry detects trace metal content and concentration in aqueous solution This is useful for Groundwater sampling, Evaluation of bore water samples, Determination of the amount of contamination from mines, Evaluation of specific elements in food or pharmaceuticals, Evaluation of specific elements in petrochemicals, Use in medicine for biological monitoring, Use in evaluating nanomaterials.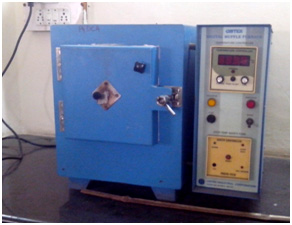 Muffle Furnace Cintex
Muffle furnace is a front-loading box-type oven or kiln for high-temperature applications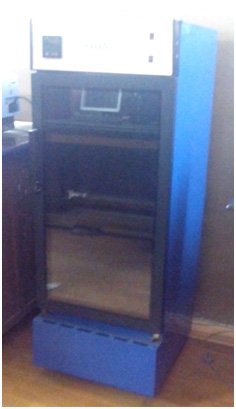 BOD Trak Selec DTC 204 Savant
Biochemical Oxygen Demand is an important water quality parameter because it provides an index to assess the effect discharged wastewater will have on the receiving environment. The higher the BOD value, the greater the amount of organic matter or "food" available for oxygen consuming bacteria.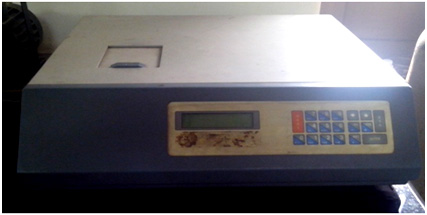 Visible Spectrophotometer - Elico
Visible spectrophotometer for analysis of substance using visible range of light (380nm to 1000nm)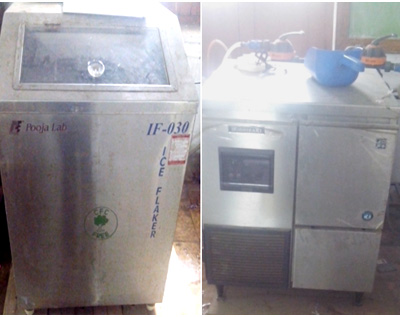 IF-030- Ice Flaker Sigmatech Scientific Products
Ice flaking machine for production of Ice for laboratory use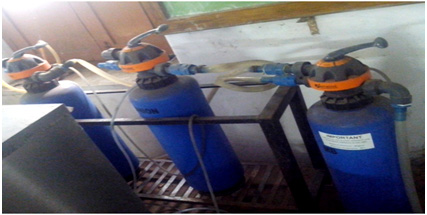 Water Deionising unit
Ion exchange based deionising unit for production of deionised water for laboratory use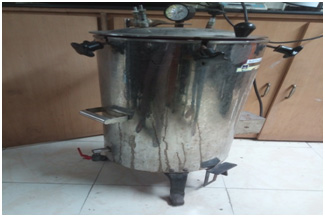 Autoclave
An autoclave is a pressure chamber used to carry out requiring elevated temperature and pressure different from ambient air pressure. Autoclaves are used in medical applications to perform sterilization.
Many autoclaves are used to sterilize equipment and supplies by subjecting them to high-pressure saturated steam at 121 °C (249 °F) for around 15–20 minutes depending on the size of the load and the contents. The autoclave was invented by Charles Chamberland in 1884.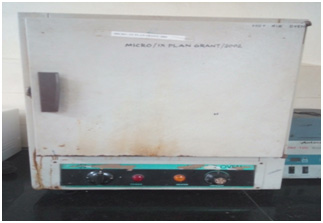 Hot Air Oven
Hot air ovens are electrical devices which use dry heat to sterilize. They were originally developed by Pasteur. Generally, they can be operated from 50 to 300 °C, using a thermostat to control the temperature. Their double walled insulation keeps the heat in and conserves energy, the inner layer being a poor conductor and outer layer being metallic. There is also an air filled space in between to aid insulation.
An air circulating fan helps in uniform distribution of the heat. These are fitted with the adjustable wire mesh plated trays.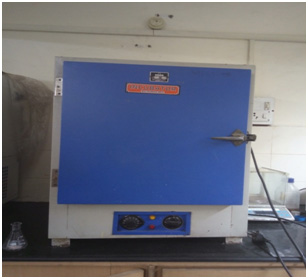 Bacteriological Incubator
Incubator is a device used to grow and maintain microbiological cultures or cell cultures. The incubator maintains optimal temperature, humidity and other conditions such as the carbon dioxide (CO2) and oxygen content of the atmosphere inside. Incubators are essential for a lot of experimental work in cell biology, microbiology and molecular biology and are used to culture both bacterial as well as eukaryotic cells.
The simplest incubators are insulated boxes with an adjustable heater, typically going up to 60 to 65 °C (140 to 150 °F), though some can go slightly higher (generally to no more than 100 °C). The most commonly used temperature both for bacteria such as the frequently used E. coli as well as for mammalian cells is approximately 37 °C (99 °F), as these organisms grow well under such conditions. For other organisms used in biological experiments, such as the budding yeast Saccharomyces cerevisiae, a growth temperature of 30 °C (86 °F) is optimal.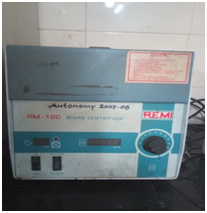 Centrifuge
Centrifuge is a equipment that puts an object in rotation around a fixed axis (spins it in a circle), applying a force perpendicular to the axis of spin (outward) that can be very strong. The centrifuge works using the sedimentation principle, where the centrifugal acceleration causes denser substances and particles to move outward in the radial direction.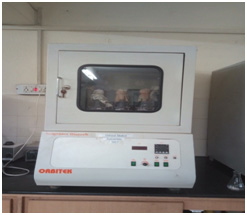 Shaker Incubator
A shaker is a laboratory equipment used to mix, blend, or agitate substances in a tube or flask by shaking them. It is mainly used in the fields of chemistry and biology. A shaker contains an oscillating board that is used to place the flasks, beakers, or test tubes. It is preferred choice of equipment when dealing with large volume substances or when simultaneous agitation is required.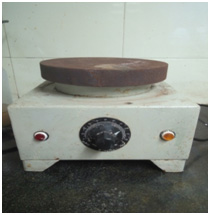 Hot Plate
A hot plate is a portable self-contained tabletop small appliance that features one, two or more electric heating elements or gas burners. A hot plate can be used as a stand-alone appliance, but is often used as a substitute for one of the burners from an oven range or a kitchen stove. Hot plates are often used for food preparation, generally in locations where a full kitchen stove would not be convenient or practical. A hot plate can have a flat surface, or round surface. Hot plates can be used for traveling or in areas without electricity.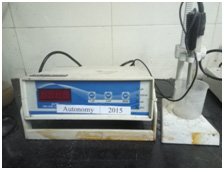 pH Meter
A pH meter is a scientific instrument that measures the hydrogen-ion activity in water-based solutions, indicating its acidity or alkalinity expressed as pH. The pH meter measures the difference in electrical potential between a pH electrode and a reference electrode, and so the pH meter is sometimes referred to as a "potentiometric pH meter". The difference in electrical potential relates to the acidity or pH of the solution. The pH meter is used in many applications ranging from laboratory experimentation to quality control.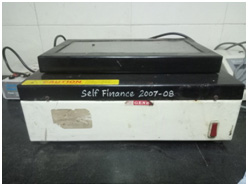 UV Transilluminator
UV-transilluminators are used in molecular biology labs to view DNA (or RNA) that has been separated by electrophoresis through an agarose gel. During or immediately after electrophoresis, the agarose gel is stained with a fluorescent dye which binds to nucleic acid. Exposing the stained gel to a UVB light source causes the DNA/dye to fluoresce and become visible. This technique is used wherever the researcher needs to be able to view their sample, for example sizing a PCR product, purifying DNA segment after a restriction enzyme digest, quantifying DNA or verifying RNA integrity after extraction.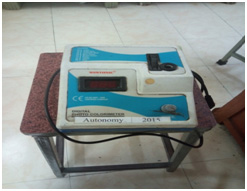 Colorimeter
A colorimeter is a device used in colorimetry. In scientific fields the word generally refers to the device that measures the absorbance of particular wavelengths of light by a specific solution. This device is commonly used to determine the concentration of a known solute in a given solution by the application of the Beer-Lambert law, which states that the concentration of a solute is proportional to the absorbance.
The essential parts of a colorimeter are:
a light source (often an ordinary low-voltage filament lamp);
an adjustable aperture;
a set of colored filters;
a cuvette to hold the working solution;
a detector (usually a photo resistor) to measure the transmitted light;
a meter to display the output from the detector.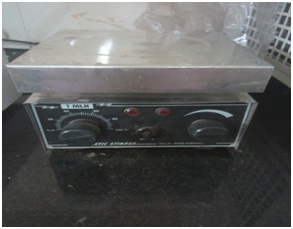 Magnetic Stirrer
A magnetic stirrer or magnetic mixer is a laboratory device that employs a rotating magnetic field to cause a stir bar (or flea) immersed in a liquid to spin very quickly, thus stirring it. The rotating field may be created either by a rotating magnet or a set of stationary electromagnets, placed beneath the vessel with the liquid.
Magnetic stirrers are often used in chemistry and biology, where they can be used inside hermetically closed vessels or systems, without the need for complicated rotary seals. They are preferred over gear-driven motorized stirrers because they are quieter, more efficient, and have no moving external parts to break or wear out (other than the simple bar magnet itself). Magnetic stir bars work well in glass vessels commonly used for chemical reactions, as glass does not appreciably affect a magnetic field. The limited size of the bar means that magnetic stirrers can only be used for relatively small experiments, of 4 liters or less. Stir bars also have difficulty in dealing with viscous liquids or thick suspensions. For larger volumes or more viscous liquids, some sort of mechanical stirring is typically needed.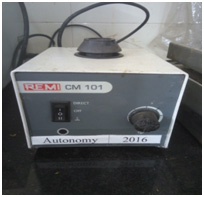 Vortex Mixer
A vortex mixer, or vortexer, is a simple device used commonly in laboratories to mix small vials of liquid. It consists of an electric motor with the drive shaft oriented vertically and attached to a cupped rubber piece mounted slightly off-center. As the motor runs the rubber piece oscillates rapidly in a circular motion. When a test tube or other appropriate container is pressed into the rubber cup (or touched to its edge) the motion is transmitted to the liquid inside and a vortex is created. Most vortex mixers are designed with 2 or 4-plate formats, have variable speed settings ranging from 100 to 3,200 rpm, and can be set to run continuously, or to run only when downward pressure is applied to the rubber piece.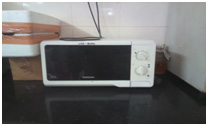 Microwave Oven
A microwave oven (also commonly referred to as a microwave) is an electric oven that heats media by exposing it to electromagnetic radiation in the microwave frequency range. This induces polar molecules in the media to rotate and produce thermal energy in a process known as dielectric heating. Microwave ovens heat media quickly and efficiently because excitation is fairly uniform in the outer 25–38 mm (1–1.5 inches) of a homogeneous, high water content media item; media is more evenly heated throughout than generally occurs in other cooking techniques.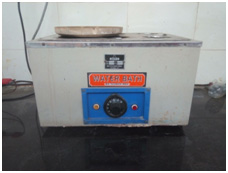 Water Bath
A water bath is laboratory equipment made from a container filled with heated water. It is used to incubate samples in water at a constant temperature over a long period of time. All water baths have a digital or an analogue interface to allow users to set a desired temperature. Utilisations include warming of reagents, melting of substrates or incubation of cell cultures. It is also used to enable certain chemical reactions to occur at high temperature. Water bath is a preferred heat source for heating flammable chemicals instead of an open flame to prevent ignition. Different types of water baths are used depending on application. For all water baths, it can be used up to 99.9 °C. When temperature is above 100 °C, alternative methods such as oil bath, silicone bath or sand bath may be used.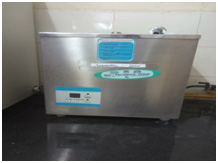 Sonicator
Sonication is the act of applying sound energy to agitate particles in a sample, for various purposes such as the extraction of multiple compounds from plants, microalgae and seaweeds . Ultrasonic frequencies (>20 kHz) are usually used, leading to the process also being known as ultrasonication or ultra-sonication.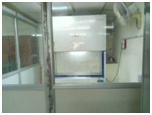 Laminar Air Flow Cabinet
A laminar flow cabinet or laminar flow closet or tissue culture hood is a carefully enclosed bench designed to prevent contamination of semiconductor wafers, biological samples, or any particle sensitive materials. Air is drawn through a HEPA filter and blown in a very smooth, laminar flow towards the user. Due to the direction of air flow, the sample is protected from the user but the user is not protected from the sample. The cabinet is usually made of stainless steel with no gaps or joints where spores might collect.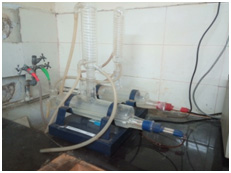 Double Distillation Unit
Double Glass Distillation Unit consists of flak with heating elements which has been embedded in fine glass. This Double distillation is used for carrying out reactions under stirred conditions along with the furnishing for reflux distillation. They are widely applicable in different laboratories which are used to analyze and collect the distillation product. This Double Glass Distillation Unit is fused in spiral type coil fitted internally in the bottom along with tapered round glass. This is a distiller for producing distilled water for laboratory research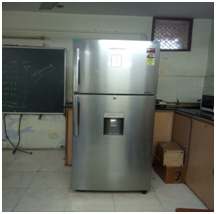 Refrigerator
A refrigerator is a popular appliance that consists of a thermally insulated compartment and a heat pump (mechanical, electronic or chemical) that transfers heat from the inside of the fridge to its external environment so that the inside of the fridge is cooled to a temperature below the ambient temperature of the room. Refrigeration is an essential food storage technique in developed countries. The lower temperature lowers the reproduction rate of bacteria, so the refrigerator reduces the rate of spoilage. A refrigerator maintains a temperature a few degrees above the freezing point of water. Optimum temperature range for perishable food storage is 3 to 5 °C (37 to 41 °F). A similar device that maintains a temperature below the freezing point of water is called a freezer. The refrigerator replaced the icebox, which had been a common household appliance for almost a century and a half. For this reason, a refrigerator is sometimes referred to as an icebox in American usage.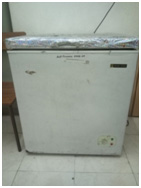 -20oC Refrigerator
-20o c refrigerator is used for preserving the cultures for longer duration. Cultures can keep in this for several months to years. The lower temperature lowers the reproduction rate of bacteria, so the refrigerator reduces the rate of spoilage.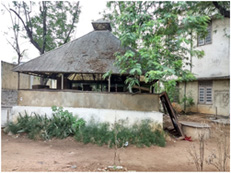 Green House
Dept. of Botany has well ventilated green house with arrangement of water sprinklers. The purpose of green house is to shield experimental plants from excess cold or heat and unwanted pests
Commerce Lab