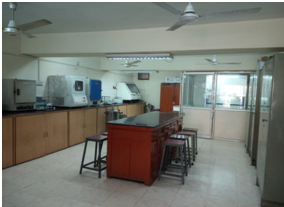 Department Of Science(Micro-Biology)
The Department offers Microbiology as an optional for B.Sc. Degree course. The course was started in 1984 with an intake of 15 students and the combination was Microbiology, Botany & Chemistry. Subsequently the course was offered along with Genetics and Chemistry besides the above combinations. Presently the combination offered is Microbiology, Genetics & Chemistry.
In addition to the above mentioned under graduate courses the department has offered courses in Microbiology to students of B.Sc. (Biophysics) and B.Sc. (Seed Technology) and Fundamentals of Microbiology to B.Sc. (Biotechnology). The department has rendered assistance in practical training to students M.Sc. (Zoology), Nizam College and B.Tech. (Biotechnology) of BVRIT College.The Microbiology curriculum is offered in the semester pattern spread over three years with two semesters per year. The papers include: General Microbiology, Virology& Microbial physiology, Molecular Biology & Microbial Genetics, Immunology and Antimicrobial Agents, Microbial Biotechnology I & II, Food and Agricultural Microbiology and Medical Microbiology.
The department has received UGC-BSRG grant in 2007-08, which was utilized for the strengthening of lab facilities .The department has also received financial assistance from DBT during 2009-10 under Star Status Scheme. The department has established a well sophisticated lab with the major grants from UGC-BSRG, DBT, allocated funds from CPE-XI plan, 12B, annual Autonomy grant and Self-Finance grant etc.
Vision
A centre of excellence for learning in Microbiology and to provide education for graduate student with quality, morality, perform research and laboratory service with excellence
Mission
The mission of the Department of Microbiology is to educate and train students in the discipline of Microbiology and to expand the body of knowledge of this scientific field through research projects. The specific goals of the Department are to:
Offer course to enhance the intellectual foundation and preparation of students for life in a complex, dynamic technological world
Prepare students with in-depth knowledge and research skills for professional careers in Microbiology;
Enhance opportunities for research and scholarship for faculty members as well as undergraduate and graduate students
Preserve, add to, evaluate, and transmit knowledge in the field of Microbiology; andServe society by promoting science.