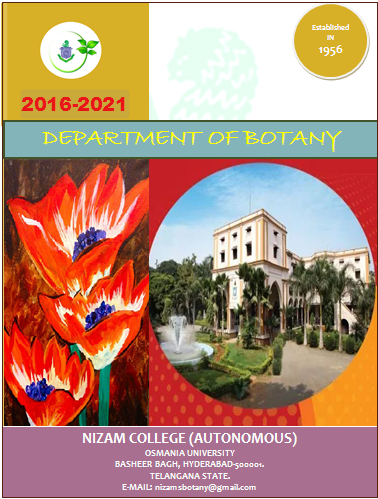 Department Of Botany
Department Of Botany
The Department of Botany was launched in the year 1956 with graduation and became a postgraduate centre in 1980 with the specialization of M.Sc. Mycology and Molecular Plant Pathology. At present the Department of Botany is offering only B.Sc with B.Z.C and Bt.B.C combination with total student strength of 180. For over a quarter century, this Department has been recognized as a research center providing facilities for research in Mycology, Plant Pathology, Ecology, Chemotaxonomy, Embryology and Anatomy. The dynamic and visionary contributions of several teachers earned the Department national recognition for its teaching and research in plant morphology, development and embryology, Seed technology etc. Current thrust areas of teaching and research provide students with substantial exposure and hands-on training in a variety of subject areas in Botany. The disciplines studied include plant structure, growth and development, plant molecular biology, physiology and biochemistry, plant pathology, ecology, genetics, systematics, evolution, and transgenic technology on a variety of taxa ranging from algae, fungi and other microbes, bryophytes and vascular plants at the cellular, organismal, community and ecosystem levels. 25 research scholars were awarded Ph.D. degree for their notable work in various fields of Botany. The faculty has published 260 research papers in national and international journals. Various funding agencies sanctioned research projects and completed successfully. Presently the department is upgraded with modern computer lab and Audio video presentation equipment to enhance the teaching efficiency and student skills. Department has well equipped Applied Palynology laboratory, Herbal garden. In addition Department organizes various training programmes, seminars, workshops and outreach programmes to students on regular basis to enrich their knowledge. The faculty is showing excellent progress in research on par with various established departments. Alumni have gone on to become acclaimed teachers, scientists, administrators, and managers in various scientific and corporate sectors.
VISION
The Department of Botany is a fostering place for an individual's holistic expansion and to inculcate fraternal spirit for effective contribution to the society in a dynamic environment.
To be a centre of excellence for plant sciences.
To be recognized as a leading Department that practices quality pedagogy, encourages innovation and research with human values and nurture the students as responsible citizens.
To upgrade the department into Post Graduation Department and Research centre with high quality and job oriented core curriculum.
MISSION
To provide a student-centered and professions-oriented higher education and to generate knowledge and produce graduates, researchers capable of providing solutions to various sectors of society in general and environment in particular.
Department will also provide skill oriented programmes or organize seminars to enrich the student knowledge in the field of plant identification, biodiversity conservation and tissue culture aspects.
OBJECTIVES
To inspire students to reach the frontiers of Plant Sciences.
To develop research aptitude and a scientific progression.
To develop an aptitude for understanding nature and its rich biodiversity.
To acquire knowledge on the taxonomic status of various plants.
To appreciate the correlation between the structure and function of plants and ecosystems.
To bring awareness on Environmental sustainability and food security.
MOTTO- Aspire, Admire and Achieve